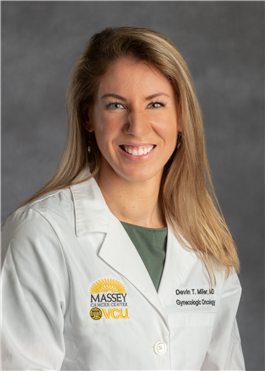 About
Comfort and care for patients with gynecologic cancers.
Finding out you have a cancer diagnosis is never easy.
But for patients with gynecologic cancers, there is comfort knowing there are compassionate and highly knowledgeable specialists like Devin Miller, MD on their team.
"Caring for cancer patients is emotionally challenging for me, and honestly, I hope that never changes," says Miller, a gynecologic oncologist at VCU Massey Cancer Center. "When I leave the hospital and head home, I'm still thinking about my patients there — and that is okay. I have a lot of empathy and always want the best. These are challenging moments with difficult diagnoses, but I am constantly reminded of how lucky I am to be able to provide the level of care that we do here at Massey."
Dr. Miller treats patients with various forms of female cancers, including the uterus, ovaries, vulva, vagina, cervix, and also complex benign gynecologic conditions. As part of the Massey team, she works closely with pathologists, radiologists, radiation oncologists and other physician specialists. That collaboration gives every patient a treatment plan tailored to their unique diagnosis and goals. Treatment may include surgery, staging of the cancer, or providing chemotherapy and targeted therapies. As a gynecologic oncologist, Dr. Miller is also trained as a surgeon, and offers minimally invasive and robotic procedures that can promote faster recovery and less hospitalization.
But all care begins with listening.
"I bring an honest, open, and positive style to my patients and want them to feel comfortable discussing anything with me without fearing judgment. You will have many options, but we'll make the right decision together through conversations and collaboration, which is key to optimal outcomes," she says. Dr. Miller, a former fitness professional who attended VCU for medical school, notes that a whole-person, holistic approach to care is important to every individual's cancer journey.
"I chose this field because I want to be involved in every step of that journey with you, both medically and surgically," she says. "As gynecologic oncologists, we really take into account your desires and needs and are the only specialty that provides both surgical and oncologic care. That level of involvement has been shown to improve outcomes because we are so acutely involved in every aspect of treatment."
Advice to Patients: "Never feel guilty about asking questions or asking for a second opinion. It's your body and your life, and you are entitled to feeling confident. With your healthcare, you are number one — completely the boss. While medical, family, and friends' opinions are important, your needs are valid and your decisions are the right ones."
Research Interests: Clinical trials that uncover new and exciting treatments, improving toxicity from chemotherapy and radiation, optimizing health outcomes for our patients outside of their cancer diagnosis
Education
Medical School
VCU School of Medicine
Residency
Yale University School of Medicine
Fellowship
Albert Einstein College of Medicine
Locations
Get access to new, innovative care
Treatments in clinical trials may be more effective or have fewer side effects than the treatments that are currently available. With more than 200 studies for multiple types of cancers and cancer prevention, Massey supports a wide array of clinical trials.
Search clinical trials