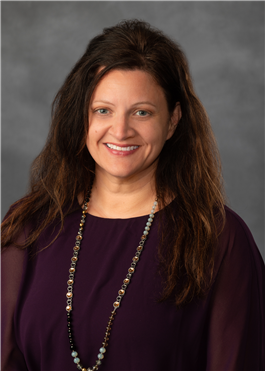 About
Misty Lewis, MSW, LMSW graduated with a Masters in Social Work from Washington University in St. Louis in 2012 with a Health concentration. Misty is currently completing her Masters in Business Administration at the VCU School of Business and will graduate with her MBA in December 2022. In addition, she is currently completing supervision for her LCSW.
In Missouri, Misty completed her BSW practicum at the Missouri Division of Family Services in child protection services before attending graduate school for her MSW. While completing her MSW, she worked at the Siteman Cancer Center at Washington University School of Medicine and Barnes-Jewish Hospital in St. Louis.
At graduation and from Siteman's recommendation she was awarded the Excellence in Healthcare Practicum award from Washington University in St. Louis. From 2012-2015 Misty continued to work in academic medical centers in Missouri as the Community Education Coordinator while also serving as a clinical social worker with the responsibility of covering the pediatric emergency rooms and trauma center.
After relocating to Richmond, Misty joined Massey Cancer Center in 2015 working with the regulatory team and clinical trials. Upon receiving her Virginia LMSW license she transferred to Care Coordination as a clinical social worker at VCU Health Emergency Department where she provided clinical social work services to the pediatric and adult ER and trauma centers. Misty then transitioned to covering the inpatient floors and assisted with solving complex patient issues from pediatrics to geriatrics.
In addition, she assisted with supervising social work students and training new social workers. As the interim social worker with the NICU, Misty was able to work extensively with the CHOR pediatric teams. This led to her applying for her current position as the Pediatric Oncology and Hematology Social Worker. In addition to serving on the VCU Health campus, Misty has taught as an adjunct professor at the VCU School of Social Work since 2017 where she has instructed BSW and MSW students on clinical practice, social justice, research methods and statistics.
Misty enjoys speaking and writing on topics related to Interprofessional Education and Interdisciplinary teamwork. She has led seminars at healthcare conferences and served as lecturer and panelist across the VCU campuses speaking to students from medicine, nursing, social work, dentistry, public health, pharmacy and physical therapy.
As a person, her colleagues and friends know her as an optimistic, energetic and driven person who adores fashion, a runner who encourages others to get moving, a mother who thinks her kids are amazing, an adventurer who will travel anywhere and a social worker who loves working in pediatrics. Misty is so excited to be at CHOR and looks forward to meeting the psychosocial needs of our amazing children and families. She can be reached at 804-418-2973 or misty.lewis@vcuhealth.org.
Education
Master of Social Work, Management and Health Concentration
Washington University, St. Louis
Locations
Get access to new, innovative care
Treatments in clinical trials may be more effective or have fewer side effects than the treatments that are currently available. With more than 200 studies for multiple types of cancers and cancer prevention, Massey supports a wide array of clinical trials.
Search clinical trials