HIPEC (heated intraperitoneal chemotherapy) is a complex procedure reserved for patients with advanced abdominal cancers. It involves cytoreduction surgery to remove as much of the tumor or tumors as possible, followed by the circulation of a heated chemotherapy solution throughout the abdominal cavity. The chemotherapy solution helps kill any remaining cancer cells and reduces the risk of cancer recurrence. There is substantial evidence showing HIPEC is an effective treatment for several cancers affecting the abdominal region.
VCU Massey Comprehensive Cancer Center's Leopoldo Fernandez, M.D., and Stephanie Sullivan, M.D., are among the few surgical oncologists in the state to offer HIPEC for the treatment of advanced or complex abdominal cancers, including:
Appendiceal cancer
Ovarian cancer
Colorectal cancer
Mesothelioma
Pseudomyxoma peritonei
Stomach cancer
Low-grade sarcoma
Peritoneal inclusion cysts
‌HIPEC patients are assisted by a dedicated nurse navigator, who helps guide them through diagnosistic tests, treatment and recovery. Patients typically spend 5-7 days recuperating in the hospital following HIPEC, which is similar to standard cytoreduction surgery.
Watch the video below to see Fernandez and the HIPEC team explain the procedure and what patients can expect. For more information about HIPEC, or for appointments and referrals, please call (804) 628-3111 or email HIPEC@vcuhealth.org.
Meet our team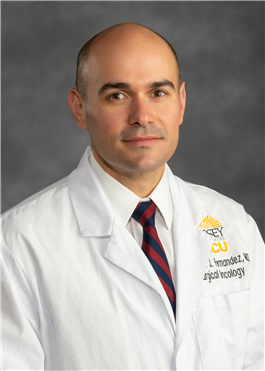 Surgical Oncology
(804) 628-3111
Request an Appointment