VCU Massey Comprehensive Cancer Center offers the full continuum of care for vaginal cancer – from prevention and detection to treatment and survivorship.
Using the most advanced technology, treatment options and clinical trials, our team offers a wide scope of care for patients diagnosed with or at high risk of vaginal cancer. Our care is delivered compassionately, with respect, personal attention and a focus on the whole person – not just the disease.
Your partner in vaginal cancer care
Whether you are faced with a diagnosis of vaginal cancer, need help evaluating and reducing your risk for vaginal cancer or are being screened for early detection of vaginal cancer, VCU Massey Comprehensive Cancer Center is here to help.
We provide a level of expertise and experience found only at the top 4 percent of cancer centers across the country designated by the National Cancer Institute (NCI). Massey is the only center in the Richmond area and one of two in Virginia designated by the NCI to lead and shape America's cancer research efforts.
Massey's care is provided through VCU Health at VCU Medical Center, an award-winning hospital.
Clinical trials
Treatments in clinical trials may be more effective or have fewer side effects than the treatments that are currently available.
Gynecologic cancer treatment team
Our specialists from many different disciplines work together in the area's largest and most comprehensive multidisciplinary teams.
Resources & support services
Massey offers a number of patient support services to address educational, emotional, spiritual and social service needs.
Why choose VCU Massey Comprehensive Cancer Center for your vaginal cancer care
Massey features an award-winning medical team dedicated to caring for patients with cancers of the ovaries, fallopian tubes, primary peritoneum, uterus, cervix, vagina and vulva and with gestational trophoblastic disease.
Discover the 5 Cs that make us the right choice for your vaginal cancer care. Choose Massey for your vaginal cancer care because we are:
Cutting-edge
Our doctors have unparalleled knowledge and experience in diagnosing and treating all types of gynecologic cancers. As sub-specialists in gynecologic oncology, they are specifically trained in and dedicated to the diagnosis and treatment of cancers of the female reproductive organs.
Comprehensive
Massey offers a full range of treatment options and scope of care, from prevention and diagnosis to treatment, recovery and long-term survivorship. We provide expert care for patients with ovarian, fallopian tube, primary peritoneal, uterine, cervical, vaginal and vulvar cancers and gestational trophoblastic disease. Furthermore, you have access to clinical trials testing new and promising treatments that are only available at National Cancer Institute-designated Comprehensive Cancer Centers like Massey. Additionally, Massey offers comprehensive support services that help minimize your symptoms and side effects and help you cope with the cognitive, emotional and psychological effects of cancer.
Massey also offers care for women at increased genetic risk for gynecologic cancers. Furthermore, we provide genetic counseling to women with ovarian or endometrial cancer who may have a family history of cancer or who are concerned about inherited risk. Our Familial Cancer Clinic – the only one of its kind in the Richmond region – offers information, genetic testing and guidance about the inheritable risk of gynecologic cancers so that informed choices can be made and treatment can be personalized.
Collaborative
Cancer care generally requires multiple forms of therapy and various specialized doctors. At Massey, our specialists collaborate in interdisciplinary teams to coordinate all aspects and stages of patient care and conveniently provide that care in one location. Massey pioneered the multidisciplinary approach to cancer care in our region. This approach combines the expertise of many doctors and ensures that you will receive the ideal combination and sequence of treatment.
Compassionate
Through respectful, attentive and compassionate care, Massey's cancer care team builds healing relationships with you that help reduce suffering from cancer.
Customized
Recognizing that each patient is unique and each type of cancer is different, Massey provides treatment strategies and care plans tailored and individualized to you.
Becoming a Patient
Our award-winning team at VCU Massey Comprehensive Cancer Center is transforming how cancers are prevented, detected, treated and cured, and it is our pleasure to care for you and your loved ones. Cancer is complex and its care can be complicated, so we want to make your experience as our patient as simple and positive as possible.
Request an Appointment
Prepare for Your Visit
Know What to Bring
Get Started
Margie Brauer
"Coming to Massey is a joy. I have been treated with respect and compassion from day one, and my doctors and nurses have become an extended family, celebrating my return to health every step of the way."
Read Margie's story
Read more patient stories
Meet our team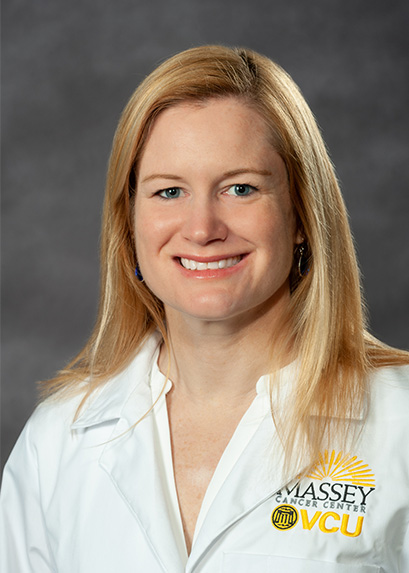 Radiation Oncology
(804) 828-7232
Request an Appointment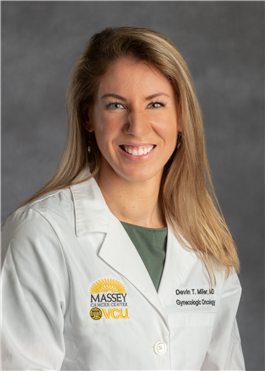 Gynecology Oncology
(804) 828-9080
Request an Appointment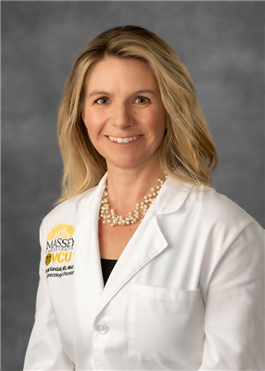 Gynecology Oncology
(804) 828-9080
Request an Appointment
Our treatment locations